Pricing
Setup and monthly fees
At Gusto, it's easy to get started and you won't pay any fees until you run your first payroll. Monthly fees are straightforward, starting at a base fee of $40 per month, plus an additional $6 per employee per month. Learn more about our product plans and current promotions.
ADP Run often requires a setup fee, and the monthly cost fluctuates depending on features added and number of employees.
| | | |
| --- | --- | --- |
| | Gusto | ADP |
| Monthly fee | Starting at $40/mo. + $6/mo. per user | No upfront pricing |
| Set up fee | Free | Extra fees |
Get started
Payroll
Running payroll
Gusto takes the time-consuming task of running payroll and turns it into a simple, few-click process. Our online software simplifies this complicated task, freeing up your time to focus on your team while we do the heavy lifting, no matter which state your employees live in, how they're taxed, or what their pay rate may be. You can even set up Gusto to run payroll automatically each pay period.
ADP Run is also a cloud-based system that can be accessed anywhere. This software comes with many features for reporting and can also be set up to issue payroll automatically.
Processing payroll
You can run unlimited payrolls with Gusto at no extra cost. ADP Run charges per payroll.
Tax filings
Gusto automatically calculates and files payroll taxes every time you run payroll at no extra charge. Both W-2 forms for your employees and 1099 forms for your contractors are calculated and filed to the appropriate tax agencies right from the platform. Plus, we file end-of-year taxes. ADP Run charges extra fees to file W-2 forms and 1099 forms.
Run payroll in multiple states
We go wherever you go. Gusto can be used compliantly anywhere in the United States. Multiple locations across several states are seamlessly managed through our platform. ADP Run requires extra fees to use in more than one state.
| | | |
| --- | --- | --- |
| | Gusto | ADP |
| Unlimited Payrolls | ✔ | $ Pay per payroll |
| File 1099's | ✔ | $ Extra fees |
Benefits
Employee benefits
With more than 3,500 health insurance plans, Gusto's licensed advisors can help you find the right coverage for your team and your budget. Once you select insurance plans for your team, you can administer all medical, dental, and vision plans through our platform for free.
There are other benefits options you can offer your team through Gusto. Our options include 401(k) programs, commuter benefits, life and disability insurance, and Gusto Cashout™, a free benefit for employees to access funds between paydays.
ADP offers workers' compensation, retirement options via 401(k), and health and business insurance.
Signup costs
With Gusto, there are no administration fees to enroll in workers' comp or health benefits – you'll only pay the premiums. Also, there are no set up fees for 401(k) retirement plans. Learn more about pricing for benefits. ADP Run often charges premiums plus fees.
| | | |
| --- | --- | --- |
| | Gusto | ADP |
| Health benefits | Pay premiums only | Premiums + fees |
| Workers' comp | Pay premiums only | Premiums + fees |
The Cashout Program is issued by Sunrise Banks, N.A., Member FDIC. The Sunrise Banks, N.A. Privacy Policy can be found here.
HR tools
Offer letters and onboarding
We can't wait for your new hires to get started. That's why our Plus and Premium plans help you to create and issue offer letters and streamline the employee onboarding process so that you can start your relationship on the right foot. ADP Run supports offer letter generation, but additional fees may apply.
Employee self-service
With Gusto, your employees can self-onboard, which means sensitive information is kept strictly confidential. Moreover, our platform offers lifetime access for every employee. That means employees can access their W-2s and other important benefit information even after they leave your company, without you needing to step in. ADP Run also offers a self-enrollment system for employees to submit their own information.
Time tracking
Gusto's Plus and Premium plans include access to time tracking tools that automatically sync your team's hours and time-off with payroll. We also integrate with other popular time tracking tools like Homebase, TSheets, and more. ADP Run Complete & HR plans charge extra fees to track hours and requests for time off.
| | | |
| --- | --- | --- |
| | Gusto | ADP |
| Time tracking | ✔ (Plus and Premium) | $ Extra fees |
| Time-off requests | ✔ (Plus and Premium) | $ Extra fees |
| Online offer letters | ✔ (Plus and Premium) | $ Extra fees |
Customer service
Support team
All of Gusto's products come with access to customer support via phone, email, and chat Monday through Friday. Our FAQ and Help Center are available 24 hours a day, 7 days a week. ADP products are supported by an online FAQ and chat, in addition to phone support.
Integrations
Integration capabilities
Gusto integrates with dozens of the most popular accounting, time tracking, point of sale (POS), business operations, and expense management softwares, including FreshBooks, Expensify, Intuit QuickBooks, Homebase, and Accelo. You can see a full list here.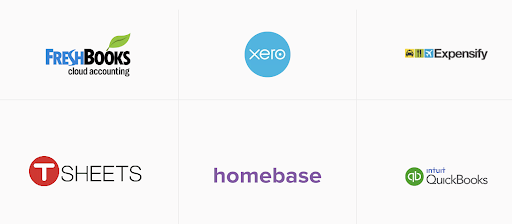 Run Powered By ADP also offers integrations with ERPs, accounting solutions, timesheets, recruiting, benefits, and productivity platforms, including iCIMS, Slack, Oracle, and Xero.
*Competitive data on this page was collected as of June 27th, 2022 and is subject to change or update. Gusto does not make any representations as to the completeness or accuracy of the information on this page. All Gusto services listed in the payroll features comparison chart are provided by Gusto or by one of Gusto's trusted partners.