Pricing
Setup and monthly fees
When you go with Gusto, there are no hidden fees. Our plans begin with a $40 monthly base fee, and you'll pay an additional $6 per employee per month. Your fees cover multiple payroll runs, thorough and accurate tax filing and reporting, access to benefits, and more. We also don't charge any setup fees. Learn more about our product plans and current promotions.
Paychex often charges a setup fee along with extra fees to enable direct deposit. The monthly cost fluctuates depending on features added and the number of employees you have.
| | | |
| --- | --- | --- |
| | Gusto | Paychex |
| Monthly fee | Starting at $40/mo. + $6/mo. per user | No upfront pricing |
| Set up fee | Free | Extra fees |
Create account
Payroll
Running payroll
With Gusto, you can complete payroll in just a few clicks, whether you're on your phone or a desktop. It takes our customers 11 minutes on average to process payroll, and you can even set up AutoPilot to process your payroll automatically.
Paychex offers online payroll processing from your phone or computer. You can also process payroll by phone or fax.
Processing payroll
Gusto doesn't limit the number of times you can run payroll each month, no matter how many employees and contractors you have. We enable you to rapidly run payroll as many times as you need.
Paychex has payroll processing limits on one-time payments, and its base fee may increase as your company adds more employees.
Tax filings
It's really important for your payroll service to accurately handle your taxes. At Gusto, we automatically file all tax forms, including new hire reporting, W-2s for full-time employees, and 1099s for contractors. We also calculate, file, and pay your end-of-year federal, state, and local taxes without charging you extra. Need to file taxes in multiple states? No problem, that's also included.
Like Gusto, Paychex calculates, pays, and files federal and state payroll taxes—but not local taxes. While there are some local payroll taxes that Paychex will cover, some may need to be completed outside of Paychex. The platform also charges extra to issue W-2 and 1099 forms.
| | | |
| --- | --- | --- |
| | Gusto | Paychex |
| Unlimited Payrolls | ✔ | $ Pay per payroll |
| File 1099's | ✔ | $ Extra fees |
Benefits
Employee benefits
We know you want to give your employees the best. That's why Gusto provides leading medical, dental, and vision benefits administration with all of our payroll plans. The only costs are the premiums for the plans you choose. Our team has licensed health insurance brokers in many U.S. states, so we can secure the best benefits for your employees.
Our health insurance options span more than 3,500 plans from top-tier networks like Humana, BlueCross BlueShield, United Healthcare, and more. Our licensed advisors will work with you to find affordable insurance options that keep your employees happy and healthy.
We can also help you transfer existing insurance plans to our platform without coverage interruptions, along with setting up and managing contributions to financial benefits. These benefits include flexible spending accounts, workers' compensation, 401(k) retirement plans, and commuter plans.
You can also support your employees' financial health with Gusto Cashout™. Unique to Gusto, this benefit gives employees access to funds in between paydays, for free.
Paychex offers health insurance, 401 (k) retirement plans, and financial wellness programs.
| | | |
| --- | --- | --- |
| | Gusto | Paychex |
| Health benefits | Pay premiums only | Pay premiums only |
| Workers' comp | Pay premiums only | Premiums + fees |
The Cashout Program is issued by Sunrise Banks, N.A., Member FDIC. The Sunrise Banks, N.A. Privacy Policy can be found here.
HR tools
Expert HR help
Gusto can help generate and issue offer letters to potential employees. When new hires start, they can log into Gusto and enter their information to set up payroll and benefits. This minimizes human error and keeps their sensitive information secure. We also give employees ways to provide anonymous feedback to help you improve your business.
Our expert HR assistance doesn't stop at onboarding. Our Premium plan and HR services add-on come with expert HR support including resources, templates, and real-time advice from SHRM and HRCI-certified professionals.
Paychex also offers access to HR features. However, only large customers who sign up for the Flex® Enterprise tier can use their HR tools. These tools include employee development resources, hiring services, and in-house teams of HR compliance experts.
Employee self-service
Gusto saves you time while giving employees power over their information. Your team can log into their employee portal and set up their profiles on their own, making their information more accurate and secure.
Employees of companies that use Paychex also have access to an online self-service tool, though it can only be used to view pay stubs and forms rather than edit information. The Paychex employee self-service portal does not include access to benefits information.
Gusto's platform stands out because we give employees access to their information forever—even if they're not working with you anymore. No matter how long it's been since an employee left your company, they'll always be able to access their W-2s and benefits information without having to contact anyone on your team.
Time management
When you sign up for Gusto's Plus or Premium plans, you get straightforward tools for tracking employee hours and processing requests for paid time off. Our tools also integrate seamlessly with Homebase, TSheets, and other widely used time tracking platforms so you can automatically add employee hours.
Paychex offers time tracking through its Paychex Flex platform, which costs extra to add. It integrates with select time and schedule management platforms, including Dolce Software and OnShift. Paychex users who pay for higher-tier memberships can use additional HR tools that may prove helpful with time and schedule management software.
Customer service
Support team
At Gusto, we offer email, phone, and chat support. Our customer support team can be reached Monday through Friday, and we also have a comprehensive online FAQ and Help Center that's readily accessible around the clock.
Paychex users can find ample information on the company's website. Customers who need live assistance can also reach Paychex's customer support and sales teams by phone. The support team is available 24 hours a day, 7 days a week.
Integrations
Integration capabilities
Our payroll platform integrates with leading software tools for time tracking, expense management, point of sale (POS), and accounting. We never charge extra for integrations. Our payroll integration partners currently include QuickBooks, Xero, Homebase, and Clover. Take a look at the full integrations list.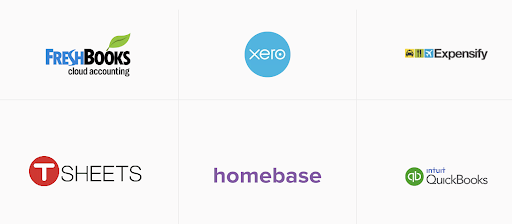 Paychex also offers integrations with benefits, HR, attendance, and accounting platforms. Some of its integration partners are Indeed, OnShift, QuickBooks Online, and Xero. Paychex also allows Paychex Flex users to recommend new integration partners.
*Competitive data on this page was collected as of June 27th, 2022 and is subject to change or update. Gusto does not make any representations as to the completeness or accuracy of the information on this page. All Gusto services listed in the payroll features comparison chart are provided by Gusto or by one of Gusto's trusted partners.