Pricing
Setup and monthly fees
Gusto is completely free to get started. The base fee is a straightforward $40 per month, plus an additional $6 per month for each employee on your team. Read more about our four plans and current promotions.
Square Payroll costs $29 per month as its base fee, plus a monthly fee of $5 per employee.
| | | |
| --- | --- | --- |
| | Gusto | Square Payroll |
| Monthly fee | Starting at $40/mo. + $6/mo. per user | Starting at $29/mo. + $5/mo. per user |
| Set up fee | Free | Free |
Create account
Payroll
Running payroll
With Gusto, you can run payroll in just a few clicks. You can manage payroll for all types of workers, including W-2 employees and 1099 contractors. Set up AutoPilot to run payroll automatically, which makes a simple task even easier to manage. We don't have a limit to the number of payrolls you can run each month—whether you're the only employee or have a team of 100, we've got you covered.
Square also allows you to set up and run payroll for employees and contractors. Direct deposit and paper check options are available as well.
Tax filings
Gusto automatically calculates, files, and pays your payroll taxes every time you pay your team. With coverage in all 50 states, you can run payroll compliantly no matter where your employees report to work. Federal, state, and local taxes are all covered.
Square works similarly to Gusto, calculating filings automatically for federal and state taxes. However, they do not cover local taxes like Gusto.
| | | |
| --- | --- | --- |
| | Gusto | Square Payroll |
| Unlimited Payrolls | ✔ | ✔ |
| File 1099's | ✔ | ✔ |
Benefits
Employee benefits
We have more than 3,500 health insurance plans for your employees to choose from. Each plan comes from highly regarded insurance companies like BlueCross BlueShield, Humana, and United Healthcare. Our online dashboard allows you to easily administer all your employees' plans from one place. We don't charge any administration fees to enroll in health benefits–you'll only pay the premiums.
Health insurance isn't the only benefit we offer. Gusto also provides financial perks like 401(k) retirement plans and commuter benefits. Learn more about pricing for benefits.
Square offers similar benefits beyond payroll, including health insurance, workers' compensation, 401(k) plans, and pre-tax benefits through Alice.
Financial benefits
Gusto Cashout™ lets your employees borrow money in between paydays, interest-free. This free benefit from Gusto helps your team cover unexpected financial hardships without worry, and without impacting your books. Square Payroll does not offer this type of financial benefit.
| | | |
| --- | --- | --- |
| | Gusto | Square Payroll |
| Health benefits | Pay premiums only | Pay premiums only |
| Workers' comp | Pay premiums only | Pay premiums only |
The Cashout Program is issued by Sunrise Banks, N.A., Member FDIC. The Sunrise Banks, N.A. Privacy Policy can be found here.
HR tools
Team management
Gusto's Plus and Premium plans include access to simple time tracking tools to help you track your employees' hours and time off requests. Those plans also include team management features like anonymous employee surveys, which allow you to collect feedback from your team and use the results to take action.
Square Payroll offers a time tracking tool called Timecards, which enables employees to track their hours worked. Tracked time can be viewed, edited, and deleted as needed by a manager.
Customer service
Support team
At Gusto, we offer best-in-class customer support. Our support teams are available by phone, email, and live chat Monday through Friday. We also have an FAQ and Help Center, available at any time.
Square Payroll offers a payroll-specific FAQ page which answers the most common questions about the platform, plus live chat and phone support.
Integrations
Integration capabilities
Our payroll software easily integrates with other platforms. Gusto supports almost all accounting, point of sale (POS), business operations, expense management, and time tracking platforms, including Accelo, Homebase, Expensify, Intuit QuickBooks, and FreshBooks. View our complete list of compatible platforms.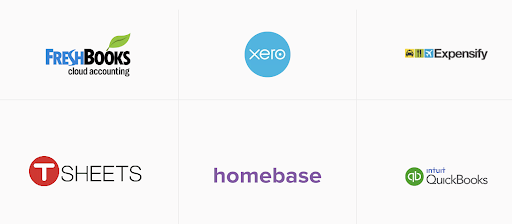 Square offers product integrations with several platforms like Homebase and QuickBooks.
*Competitive data on this page was collected as of June 27th, 2022 and is subject to change or update. Gusto does not make any representations as to the completeness or accuracy of the information on this page. All Gusto services listed in the payroll features comparison chart are provided by Gusto or by one of Gusto's trusted partners.