Pricing
Monthly fees
Gusto offers straightforward monthly plans, with options starting at a monthly base fee of $40, plus an additional $6 per employee per month. If you don't have W-2 employees, you can use Gusto to pay your contractors for just $35/month plus $6/month per contractor (in the months you pay them). There are no hidden fees, and our base price includes tax filing, multiple payroll runs, reporting, and other essentials.
Justworks' pricing is based on the size of your company. For businesses with fewer than 25 employees, plans start at $49 per employee per month, and the monthly fees per employee decrease as your company size increases. Discounts may be available if you're billed annually.
| | | |
| --- | --- | --- |
| | Gusto | Justworks |
| Monthly fee | Starting at $40/mo. + $6/mo. per user | Starting at $49/mo. per employee (for businesses with <25 employees) |
| Set up fee | Free | Free |
Get started
Payroll
Running payroll
As a business owner, you know time is your greatest asset. Through our desktop and mobile-web platform, Gusto users have all the tools they need to quickly manage payroll and save time. On average, Gusto customers spend 11 minutes running payroll —which is 13 minutes less time than it used to take with their previous payroll services.
Whether you run payroll twice or 10 times a month, all Gusto plans allow for unlimited payrolls. Our platform speeds through the process and provides a summary review so you can double-check everything before confirming. Gusto is also available in all 50 states. Payroll in multiple states is included in the Plus and Premium plans.
Justworks also helps companies manage their payroll needs across the country. It has full support for a variety of employee types, and is able to handle weekly and bi-weekly pay schedules for hourly and salaried employees. Like Gusto, Justworks also handles additional payment types like bonuses, commissions, and one-time payments.
Tax filings
Managing your business taxes is a big reason why many customers choose Gusto. We understand how important it is to stay compliant, so our platform collects and files your payroll taxes automatically.
W-2 and 1099 forms for employees and contractors are calculated and filed directly from Gusto. We also handle your business's local, state, and federal taxes at the end of the quarter and calendar year, regardless of whether you operate in one state or many.
Justworks can also manage your company's local, state, and federal payroll taxes on a quarterly or annual basis. The service files W-2s, 1099s, and other major tax forms.
| | | |
| --- | --- | --- |
| | Gusto | Justworks |
| Unlimited Payrolls | ✔ | ✔ |
| File 1099's | ✔ | ✔ |
Benefits
Employee benefits
Your employees' well-being is important. Gusto can help you support that mission by offering comprehensive benefits packages to keep your employees happy and healthy. We offer over 3,500 medical, dental, and vision plans from some of the country's largest insurance networks. Our team of licensed advisors help Gusto customers find the right health care coverage that fits within their budget. When signing up for health benefits with Gusto, customers can transfer their existing plans without any interruption in coverage.
We also provide financial benefits, including 401(k) retirement plans, commuter reimbursement, workers' compensation, and flex spending accounts.
Justworks also offers benefits packages, but only under its Plus plan. If your business needs to set up health insurance, access COBRA, or HSA or FSA accounts, then you need the pricier package. Aside from health insurance, both of Justworks' plans include access to workers' comp, life and disability insurance, health and wellness perks, and a 401(k).
The Cashout Program is issued by Sunrise Banks, N.A., Member FDIC. The Sunrise Banks, N.A. Privacy Policy can be found here.
Benefits pricing
With Gusto, some benefits will only require you to pay for your team's premiums, while others will require a monthly fee for the benefit and in some cases, for each employee on the plan. Health, dental, and vision plans are always fee-free, with employers or employees only paying premiums for their plans. You can also set up tax-advantaged spending accounts like HSAs, FSAs, and commuter benefits through Gusto, and there are fees associated with managing these accounts. Learn more about pricing for benefits.
Justworks will only require you to pay for your team's premiums for 401(k) and health benefits, but an access to medical, dental, and vision plans is only available for its Plus plan.
| | | |
| --- | --- | --- |
| | Gusto | Justworks |
| Health benefits | Pay premiums only | Pay premiums only (Plus) |
| Workers' comp | Pay premiums only | Pay premiums only |
HR tools
Time tracking
Gusto's Plus, and Premium plans include time tracking, so employees can track hours, request paid time off, and easily view PTO straight from their accounts. Our software also integrates with other popular time tracking options like Homebase and TSheets, allowing you to automatically import employee hours into Gusto.
Justworks also allows customers to set and approve paid time off, while tracking PTO usage and accrual. Employees can use Justworks' timecard functionality to track weekly hours while employers can monitor overtime. For additional time and attendance capabilities, Justworks integrates with third-party time tracking platforms.
Customer service
Support team
Gusto's product offerings are supported by a friendly sales and customer service team available Monday through Friday via phone, email, and live chat. Our website also features a comprehensive FAQ and Help Center, available at any time.
Justworks' customer service is available by phone, email, chat, Slack, or text on a 24/7 basis. Their website also features a large support section with and FAQ and knowledge base.
Integrations
Integration capabilities
Gusto is compatible with the top accounting, time tracking, point of sale (POS), and expense management software for small businesses. Users of popular third-party apps can rest easy knowing they can still use the software they're comfortable with at no additional cost. Browse our entire list of our integrations.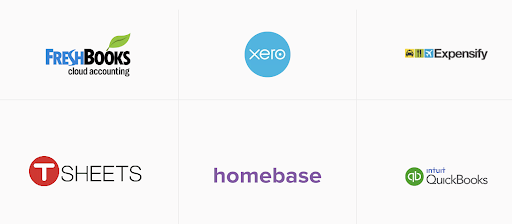 Justworks integrates with similar business and accounting software suites, including Xero, QuickBooks Online, and QuickBooks.
*Competitive data on this page was collected as of October 27th, 2022 and is subject to change or update. Gusto does not make any representations as to the completeness or accuracy of the information on this page. All Gusto services listed in the payroll features comparison chart are provided by Gusto or by one of Gusto's trusted partners.