Pricing
Monthly fees
Our pricing is straightforward. We have four plans starting with a base fee of $40 per month, plus an additional monthly fee of $6 per employee. There are no hidden fees with Gusto—your price includes multiple payroll runs, tax filing, reporting, and more. Read more about our four plans and current promotions.
QuickBooks Payroll's accounting and payroll plans start at $45 per month, plus an additional monthly charge of $5 for every employee on your team. It should be noted that the cost per employee goes up with each service tier, and contractor payments cost $15 per month for up to 020 contractors, and $2 for each additional contractor enabled for direct deposit.
| | | |
| --- | --- | --- |
| | Gusto | QuickBooks Payroll |
| Monthly fee | Starting at $40/mo. + $6/mo. per user | Starting at $45/mo. + $5/mo. per user |
| Set up fee | Free | Free |
Get started
Payroll
Running payroll
With Gusto, running payroll is done with your time in mind. Our platform cuts out the time-consuming parts of payroll, so it only requires a few clicks. Gusto customers say they spend only 11 minutes each time they run payroll —on either desktop or mobile. You can even set up Gusto to automatically process payroll each pay period, along with filing payroll taxes.
As part of Intuit, QuickBooks Payroll is an extension of the existing QuickBooks platform, meaning it wasn't built to handle payroll exclusively.
Once your company's setup is complete, the software can automatically handle payroll for salaried employees. Keep in mind that you may need to add more information to pay your hourly workers.
Processing payroll
Gusto allows you to run payroll as often as you need, regardless of whether you have one employee or 100. Each payroll run takes minutes to complete and comes with a summary so you can double-check that everything's correct before submission.
QuickBooks Payroll also offers unlimited payroll runs.
Tax filings
It's crucial that your payroll taxes are filed correctly. Gusto collects and files payroll taxes automatically, so you don't have to think about it. Your employees' W-2 forms and contractors' 1099 forms are filed directly from our platform. In addition, we file your local, state, and federal taxes at no extra fee. We also handle tax filings in multiple states without additional charges.
QuickBooks Payroll can also take care of your company's payroll tax requirements. The service can calculate, file, and pay your payroll taxes, similar to Gusto. However, only one state filing is included in the payroll package, and additional states cost $12 a month for the Core and Premium service tiers. Additionally, local tax filings require that users print out the forms and send them to their local tax collection agencies.
| | | |
| --- | --- | --- |
| | Gusto | QuickBooks Payroll |
| Unlimited Payrolls | ✔ | ✔ |
| File 1099's | ✔ | ✔ |
Benefits
Employee benefits
At Gusto, we know how important your benefits package is to your employees. That's why we offer medical, dental, and vision benefits administration for free as an add-on to our payroll plans. Gusto offers more than 3,500 trusted health insurance plans, from top carriers such as BlueCross BlueShield, Humana, United Healthcare, and many more. If you want to offer health benefits to your team, you'll only pay the premiums. Along with setting up new health benefits, you can transfer your existing plans without any coverage interruption.
With guidance from our licensed advisors, Gusto helps you find the right health care coverage that fits your budget.
We also offer other financial benefits, including 401(k) retirement plans, commuter benefits, workers' compensation, and flexible spending accounts.
QuickBooks Payroll only offers health benefits and workers' comp. While the platform's benefits administration capabilities are available at all service levels, only the Premium and Elite levels have access to workers' comp.
| | | |
| --- | --- | --- |
| | Gusto | QuickBooks Payroll |
| Health benefits | Pay premiums only | Through SimplyInsured |
| Workers' comp | Pay premiums only | Premiums + fees (fees waived for Premium and Elite) |
HR tools
Time tracking
With Gusto's Plus and Premium plans, you unlock access to simple time tracking tools that can help you monitor employee hours and process PTO requests. We also integrate with popular time tracking software like Homebase and TSheets, so you can automatically import your employees' hours into Gusto.
QuickBooks Payroll includes time tracking features in its Premium and Elite packages through TSheets. Separately, the TSheets Premium service costs $8 per month for every user, with an additional $20 base fee per month. The Elite service has a monthly fee of $10 per user, with an additional $40 base fee per month.
Customer service
Support team
At Gusto, our products are backed with the full support of a sales and customer support team. We're available every weekday through phone, email, and chat. Our All of Gusto's products come with access to friendly customer support via phone, email, and chat Monday through Friday. Our FAQ and Help Center are available 24 hours a day, 7 days a week.
QuickBooks has an extensive knowledge base that's hosted on their website. For customers who want to speak with a live person, the QuickBooks support team can be reached by phone.
Integrations
Integration capabilities
Gusto's people platform is compatible with a wide range of popular accounting, time tracking, point of sale (POS), and expense management software, including FreshBooks, Expensify, Homebase, and TSheets. All integrations are available for no additional cost and without any downtime. See the full list of integration partners.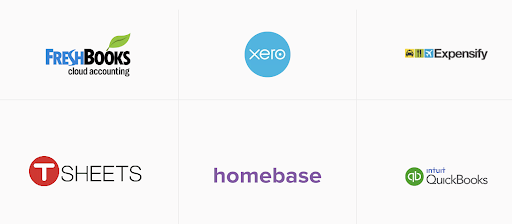 QuickBooks Payroll is primarily built to integrate with the QuickBooks line of software solutions. Certain QuickBooks products, like TSheets and their main software offering, can integrate with other platforms, including Gusto.
*Competitive data on this page was collected as of June 27th, 2022 and is subject to change or update. Gusto does not make any representations as to the completeness or accuracy of the information on this page. All Gusto services listed in the payroll features comparison chart are provided by Gusto or by one of Gusto's trusted partners.