Modern, online payroll that's easy and intuitive.
With Gusto's web-based payroll software, you can run payroll from your office or a tropical poolside cabana. That's just one reason why more than 100,000 businesses use Gusto to pay their employees every month.
Step away from the complex, paperwork-ridden payroll of the past. Pay your team with Gusto's online payroll instead.
Get started
Reliable and convenient payroll
With Gusto, you don't have to double as a payroll accountant. We review the numbers, calculate and file your payroll taxes, and help you avoid tax and compliance mistakes.
Secure, centralized platform
Our cloud-based system securely stores all of your important payroll and HR records online. So you always know where to find your docs, and access is just a login away.
Benefits, HR, and so much more
We know it takes more than a paycheck to take care of your team. That's why our people platform also includes benefits, HR, and tons of other features and integrations.
What others say about Gusto's online payroll services.
Business.com
Best Online Payroll Service of 2020
TrustRadius
Top Rated 2019
PCMag
Best Online Payroll Software 2019
TechRepublic
Top 5 Cloud Payroll Services
4.7 star avg.
Capterra
2,084 reviews
4.5 star avg.
Trustpilot
1,127 reviews
How Gusto's online payroll works.
Review hours:

Log into your account from your smartphone, tablet, or computer and review your team's hours — which we've automatically synced!

Enter adjustments:

Add in additional earnings and time off where applicable.

Submit payroll:

Confirm the final numbers and submit. Ta-da, you've run payroll!
Ready for simple online payroll like this? Get started with Gusto today.
Step 3 of 5
Do you provide benefits like health insurance or 401(k) plans for your employees?
Yes
Not yet
Step 4 of 5
Where is your business located?
All done
One moment please.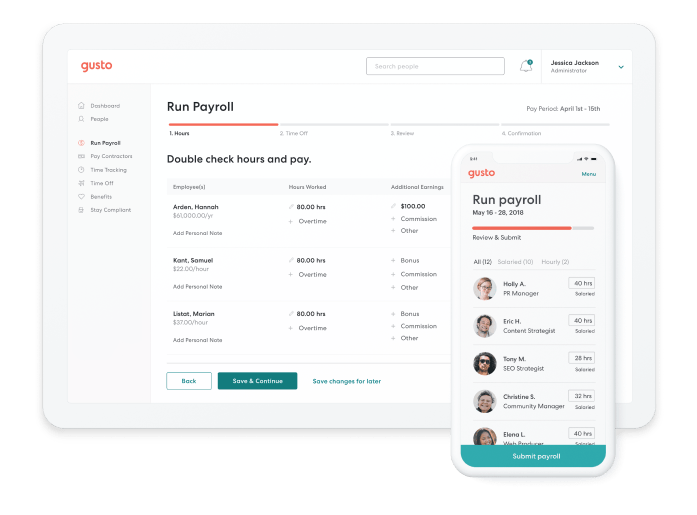 Reliable and convenient payroll
Online payroll you can run from anywhere.
Gusto's small business cloud payroll software is incredibly easy and convenient. Hours worked, benefits deductions, and other tedious calculations are all automatically synced.
We'll also handle filing payroll taxes and forms to help you avoid costly errors that plague 40% of small businesses every year.* We speak IRS so you don't have to.
Secure, centralized platform
Everything in one place, saved to the cloud.
With Gusto, you have one online destination for your payroll and HR documents, from new hire paperwork and benefits elections to payroll tax forms.
We also give your current and former employees self-service access to their digital pay stubs and W-2s, which are securely stored in the cloud and available to download at any time.
Benefits, HR, and so much more
More than just payroll services.
Besides payroll, Gusto allows you to seamlessly onboard new hires, provide employee benefits, handle HR tasks, and do a whole lot more with our built-in features.
We also play nicely with other software you use. Take care of your accounting in software such as FreshBooks or Xero? Or use expense management systems like Expensify? We integrate with those, too.
Trust is in our DNA
Top-notch security features.
Gusto processes tens of billions of dollars in payroll every year, and we handle every transaction with care.
We protect your sensitive data with top-notch security features such as multi-factor authentication and advanced encryption. Plus, we have an on-site security team ready to tackle any issues that may arise.
Payroll and HR expertise
Best-in-class support when you need it.
Our cloud-based HR and payroll software is designed to make your life easier through smart automation. If you need help, our friendly support reps are just a call, chat, or email away.
You can also find answers to frequently asked support questions in our Help Center.
Payroll of the future
Gusto is new and nimble. All the other old school payroll providers are scrambling to lower prices and provide what Gusto does.
CEO, Do Good Work Corp
Scrap the paperwork
The onboarding process is incredibly easy, and I know I don't have to worry about constantly filing paperwork because Gusto has it all under control for me. It takes the usual payroll stress off my shoulders entirely.
Charlotte Guyton,

Owner, Bard and Baker LLC
User-friendly software
Gusto is intuitive and easy to use. Not to mention, it is beautifully designed and has a persona that brings a smile to face with every notification.
Bree Mullen,

Founder, Studio Us
Flexible payroll plans, starting at $45 per month.
This is payroll without the eye roll. We won't surprise you with set-up fees or hidden charges. You get unlimited payrolls, and you can cancel anytime.
We also won't sell you more than you need. Choose the service that's best for your business:
Core Plan:

Simple online payroll solution for smaller teams.

Complete Plan:

Go beyond payroll and add time tracking and other tools for your growing business.

Concierge Plan:

Comprehensive cloud payroll and HR software with dedicated support.
Why switch to Gusto?
Running payroll with Gusto takes customers about half the time than with previous payroll providers. In fact, 77% of customers say Gusto is more automated and streamlined than their previous provider.
What are the benefits of using cloud payroll?
Running payroll can be messy, especially as your business grows. Luckily, a cloud payroll service can simplify the process of paying employees while helping keep your company compliant and secure.
Unlike software-based payroll, which is installed on the computer of the person who processes payroll, cloud-based payroll runs in the "cloud." This simply means that payroll runs remotely through a server.
If you've been running payroll by hand or using a desktop-based service, switching to an online payroll provider can help streamline your company's payroll process.
Here are the top benefits of using a cloud payroll system.
1. Helps keep you compliant
Staying on top of payroll and tax deadlines can be a big ordeal for even the most organized business owner. And the consequences can be huge. Miss a payroll deadline, and your employees don't get paid. Miss a tax deadline, and you may wind up paying fines.
Cloud payroll functions like a direct software application, but it doesn't rely on you or your employees installing updates. Instead, the cloud payroll provider makes the updates and ensures the latest tax changes are always integrated with payroll, which means you minimize your chances of making a payroll mistake.
Some online payroll systems also integrate directly with employee benefits, so you can manage payroll and benefits in one place. That means it's easier for you to stay compliant on both fronts.
2. Grows with your business
Whether you have five employees or 50, cloud-based payroll grows with you. You're not tied to the software you purchased when you hired your first employee.
As your company expands, online payroll software allows you to tap into more features and integrations. Many cloud-based payroll systems integrate with accounting, time tracking, expense management, and other types of business software.
3. Available when you need it
When you're running payroll by hand or through a computer application, your flexibility to access payroll information is limited.
With cloud payroll, you can see your payroll information through any web browser, be it on your phone, tablet, or computer. As long as you have internet access, you can process payroll. Want to run payroll from the beach or a conference? With the cloud, you can.
Some payroll providers even offer automatic payroll, allowing you to run payroll without having to log in. This capability can save you valuable time each pay period.
Here's another bonus: Many cloud payroll systems support collaboration, letting multiple users access payroll at the same time. This way, you don't need to set up complicated permissions or hand-offs — all of your payroll information is up-to-date and accessible, no matter how many employees are working on payroll.
4. More cost-effective
Cloud payroll systems can be significantly more cost-effective, often requiring just a monthly fee.
In comparison, desktop-based software can be more costly and can lead to a number of extra costs. For instance, you may need to maintain servers or hire more IT staff to update computers and deal with problems. With cloud programs, your payroll software company handles maintenance and tech support — not you.
5. Keeps your payroll data secure
Running payroll manually or through a local application opens your company up to vulnerabilities.
A fire, for instance, could wipe out years of payroll data. Missing a vital software update could leave your data exposed. With cloud-based payroll, your data is typically backed up and secure.
Online payroll providers are designed to store sensitive information, like salaries, bank account details, and Social Security numbers. Expect cloud payroll systems to offer security features like advanced encryption services and password protection to keep your company's payroll data safe.
6. Helps with recordkeeping
Recordkeeping is essential for tax purposes, as well as if your business gets audited or if an employee brings you to court.
When your payroll data is maintained in the cloud, it's immediately accessible in the cloud. Keeping all this information in the same spot helps you stay organized, which means no more digging through file cabinets or desktop folders to get the information you need.
7. Gives your employees access to their payroll information
Many cloud-based HR and payroll services allow your employees to log in and manage basic payroll-related functions, like updating their Form W-4 or benefits details.
Opening up access to this type of information saves you time and is more flexible for your employees. For example, if an employee requires a copy of their pay stub because they're applying for a loan, you won't need to find it for them.
Ultimately, a cloud-based payroll solution can be a huge help if you're juggling payroll responsibilities. Not only will your employees get paid on time, but you'll also have a better grasp of the tax and compliance changes that impact your business — so your employees can be paid accurately.