At first glance, a 401(k) plan may look like a hodgepodge of pie charts and indecipherable rules.
Run payroll and benefits with Gusto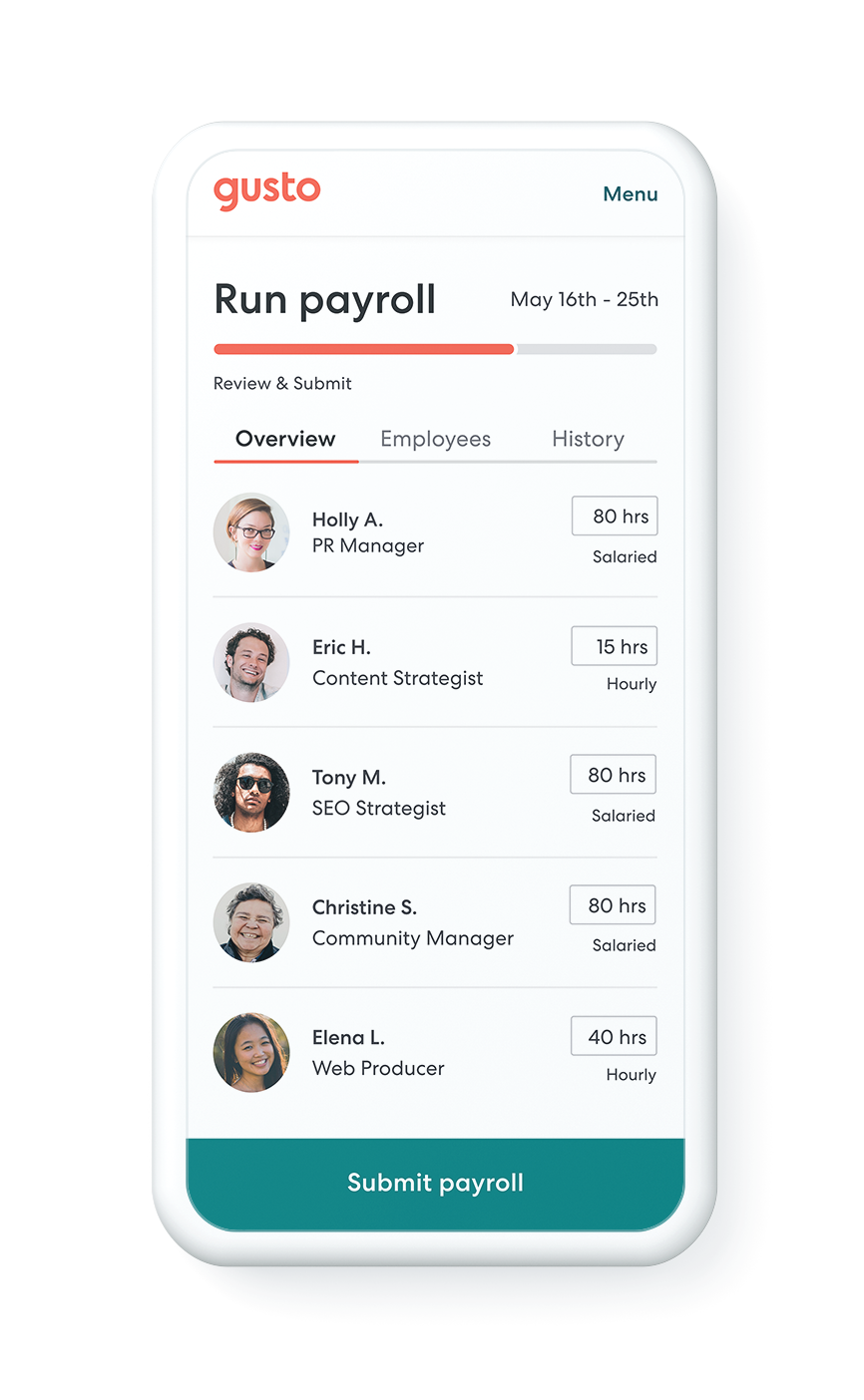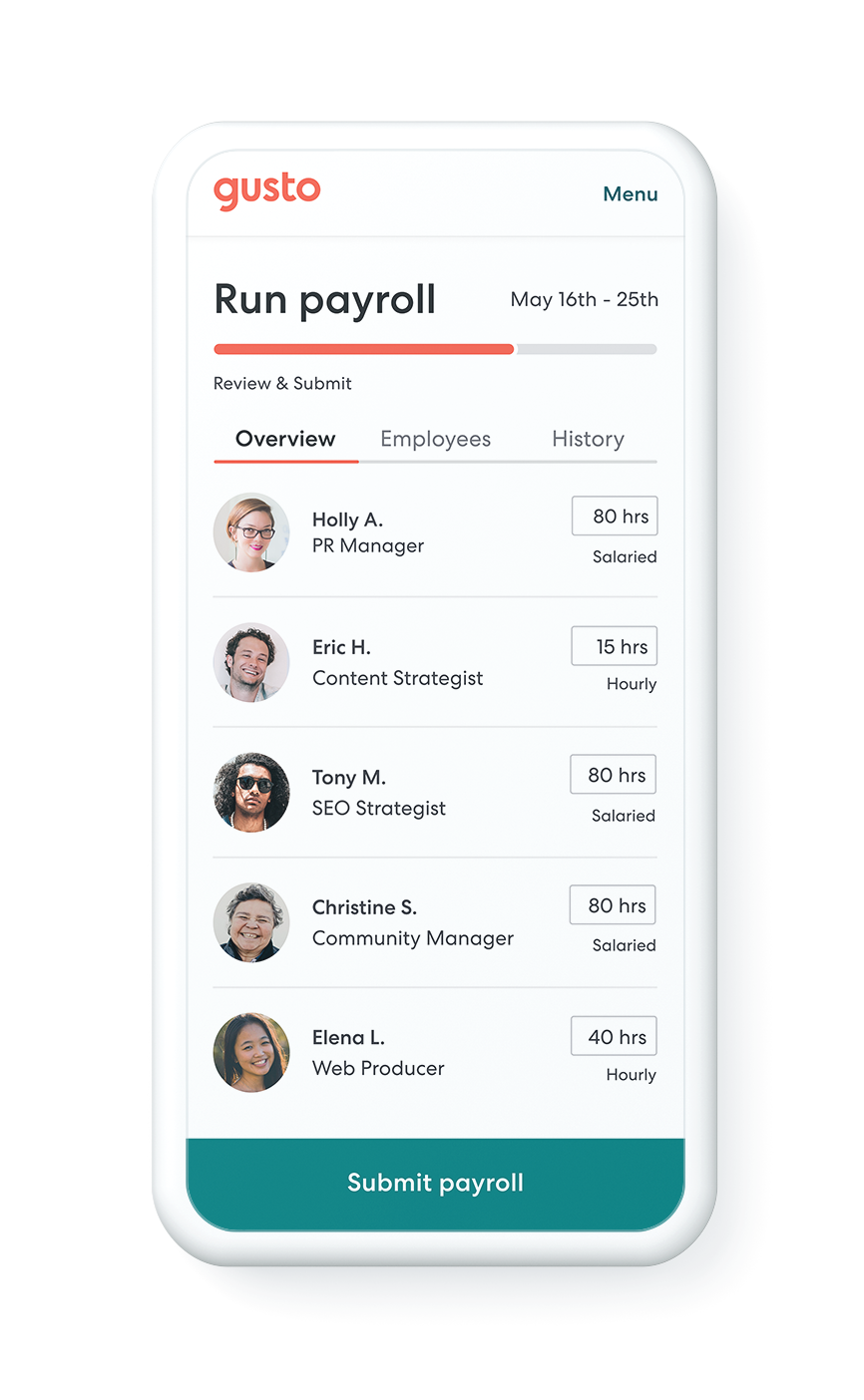 But in reality, it's an amazing tool employers have in their arsenal to help their teams save for the future. In this article, we'll give you the lowdown on how to set up a 401(k) plan that takes superb care of your team.
First off, do I need to offer a retirement plan?
Technically, there's no law requiring you to do so. However, there are endless reasons why you should help your team save for whatever life has in store.
It shows that you care about your team's future. With a company-sponsored retirement plan in place, your team will feel more comfortable thinking about the road ahead.
Most employers already provide 401(k)s to their teams. The Society for Human Resource Management (SHRM) found that 94 percent of companies provided some type of retirement plan. Furthermore, 74 percent provided a match on some or all of their employees' contributions to those plans. Offering a retirement plan will help your small business stay competitive.
Offering a 401(k) saves you money on taxes: You can deduct your employer contribution to your team's 401(k). For small businesses with fewer than 100 people on the team, there is even a $500 tax credit for the first three years to help offset the cost of administration fees.
It helps people stick around: Plan Advisor found that 40 percent of employees would leave their current company for one that offered a 401(k).
Which plan should I set up? SEP-IRA vs. SIMPLE-IRA vs. 401(k)
When you want to set up a retirement plan for your employees, you can either roll out a SEP-IRA, SIMPLE-IRA, or a traditional 401(k). Here's how they break down:
If you have less than 100 employees, you'll be able to choose from a SEP-IRA, a SIMPLE-IRA, and an employer-sponsored 401(k). As you grow to more than 100 employees, sponsoring a 401(k) will be your best bet.
SEP-IRA
Now, let's dig a little deeper. A SEP-IRA, or simplified employee pension, is for small business owners and those who are self-employed. Only employers can contribute to this kind of IRA, which is why it's more suitable for business owners.In 2020, owners can contribute $57,000 or 25% of their income, whichever number winds up lower.
SIMPLE-IRA
A SIMPLE (savings incentive match for employees) IRA is designed for companies with 100 employees or less. It was named well—setting one up is fairly simple. You fill out an IRS form, pay the fee, and that's kind of it.
Here are the 2020 contribution limits for SIMPLE IRAs:
Employees younger than 50: $13,500
Employees 50 and older: $16,500
401(k) plan
With a 401(k), there are a few more steps involved, but employees are allowed to contribute more—up to $19,500 ($26,000 for those 50 and older), as long as their company contributes as well.
Not sure if a 401(k) is for you? If your total payroll is at least $500,000, then the general rule of thumb is that you're a great candidate for a 401(k) plan.
Great, now how do I set one up?
Technically speaking, you simply shop around for plans and then call the provider that has the best option. You can also explore options like Gusto that tie 401(k) deductions directly to payroll. However, before you begin any of that, think about what you want you and your employees to get out of it. Any retirement plan should be rooted in the values that make your company who you are.
As you're going through the questions below, see how each one can help you bring the values you cherish to life.
Your team's 401(k) contribution
How much do your employees want to invest in their 401(k)s?
Here are the 2020 contribution limits for 401(k) plans:
Employees younger than 50: $19,500
Employees 50 and older: $6,500 in catch-up contributions + $19,500 = $26,000
Even if your business is tiny, the higher setup fees for a full 401(k) may be worth it if you have a lot of high earners such as lawyers, medical staff, or engineers.
Your 401(k) contribution
How much can your business commit to giving?
The great thing about 401(k) plans is that they help lower your tax burden because you can deduct any contributions as a business expense. It also gives employees the ability to have their own contributions automatically withdrawn before taxes are taken out. Then, you can pad that amount by matching whatever your worker added to the pot.
Take your financial projections into account while choosing a plan. If your profits zigzag around and you're a smaller company, a SEP-IRA allows you to adjust your yearly contribution from zero to 25 percent of a person's income. On the flip side, a SIMPLE-IRA allows you to only add up to three percent.
Enrollment timing
Each plan has different deadlines, so double-check that you have enough time to provide the plan you want in the year you want it to show up on your taxes.
401(k) maintenance and setup fees
How much are you willing to pay to actually run your plan?
This part depends on whether or not your plan has all the bells and whistles, including more customization and advice from experts. Plans that are more actively managed tend to have higher administrative costs (which can eat into your employees' returns).
There are two types of fees to know about:
Fees your company will have to pay (which are typically based on your number of employees), and
Management fees that are taken out of employees' investments
---
Now that you know all the basics, you're almost ready to set up your 401(k) plan. After health benefits and PTO, a 401(k) plan is the benefit employees covet most.
Review this guide, gather your answers to the questions above, and you'll be ready to march into any 401(k) chat with a worthwhile plan ahead of you.